Kid-tested, parent-approved toys for kids of all abilities!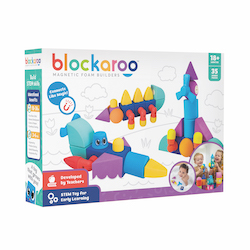 Blockaroo Windmill
$49.99; ThinkBlueMarble.com
These soft foam magnetic blocks click together like magic, rotate 360-degrees, and always attract to each other, creating a multi-sensory experience. Explore shapes, colors, and frustration-free stacking with soft foam blocks that are safe, easy to handle, and connect like magic. "Amazing toy! Blocks move in so many different ways and produce a satisfying clicking sound. Endless combinations and the magnets make it easy to connect pieces," says Natalie.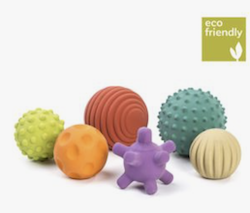 Sensory Balls
$39; MinilandGroup.com
Set of natural rubber sensory balls made of soft material, they are easy to grip and suitable for handling and biting. Their different colors and textures enhance sensory stimulation-both tactile and visual, contributing to the development of children's motor skills. "Six different textures and colors. Great for visual and tactile senses, as well as fine motor skills," says Janet.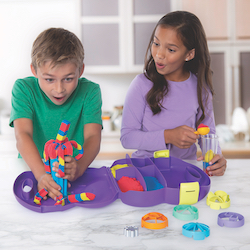 Kinetic Sand Sandwhirlz Set
$20; SpinMaster.com
Kinetic Sand is famous for its sensory, mesmerizing and tactile play features. This set includes three colors to mix and match with. The included extruder tubes lets you create magical drop and squish creations and transformations. "Perfect sensory toy and I love that it comes with a case to store everything," says Cindy.
Busy Box Child Sensory Boxes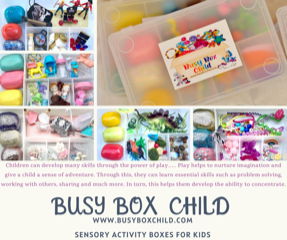 $34 & up; BusyBoxChild.com
These themed sensory kits stimulate a child's senses, help develop independent thinking and language skills, develop fine motor skills, develop science and math skills and more. From unicorns to space missions, there is something for every kid. Each box is unique and provides children with the opportunity to stimulate their sensory skills. "Similar to an occupational therapy toy that comes with many different textures. Perfect for creative play and sensory play. The themed-objects included have many different feels and sounds. They did all the work for us-this box is thematic, beautiful and ready to roll," says Emily.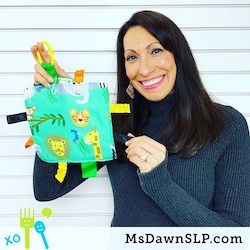 Learning Lovey
$12.95-$24.95; BabyJackandCompany.com
Learning Lovey's are sensory tag blankets that bring security to young kids and increases their cognitive, emotional, and language development. Playing with the tags can decrease kids' anxiety, increase comfort, and help them fall asleep with ease. Available in kid-friendly vibrant colors and designs that promote education. 20% of all sales donated to "Starlight Children's Foundation" to support families with ill children.
Diversity Etni Multiplay Doll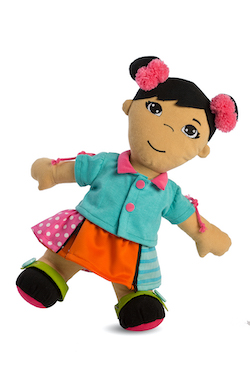 $29; MinilandGroup.com
Great way for young children to acquire skills and personal autonomy. Child will learn to dress and undress him/herself through playing with the dolls. Great for SEL (social emotional learning) and role play.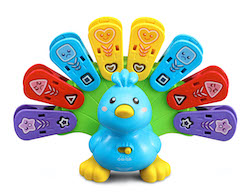 Clips N Colors Peacock
$17.99; VTechKids.com
Particularly suited for children who need practice with fine motor manipulation and hand-eye coordination. The eight clips challenge children to pinch and build manual strength. Aligning each clip to their spot requires color matching and discrimination skills as well as some patience and coordination. In addition to practicing colors, shapes and number words, the toy also introduces feeling words as well as guiding children to take a deep breath when angry. "Allows for practice with pinch grasp, matching colors and fine motor skills. Plus, it is a charming, adorable toy," says Emily.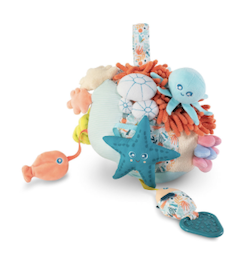 Sensorial Reef
$39.98; MinilandGroup.com
Kids will have a great time looking, touching, biting and listening to this soft coral reef. They will love exploring its secrets and shaking its baby octopus shaped removable rattle. "So many great tactile components to this toy. Put-ins, textures, rattles, teethers and more. Also a great way to introduce kids to our local ocean," say Laura.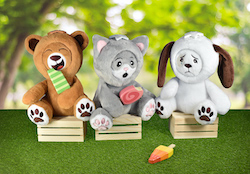 What's It's Face Emotional Plush
$24.99; Whatitsface.com
They are soft, cuddly and their changing faces offer endless SEL (social emotional learning) opportunities. Change the face with a twist of a knob to reveal six emotional expressions including happy, sad, surprised, amused, angry or sleepy. Builds empathy skills while extending creative playtime. "A great toy to help kids identify emotions," says Jennifer.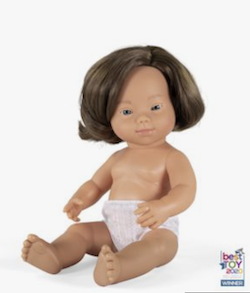 Baby Doll Down Syndrome
$30; MinilandGroup.com
This doll helps to raise kids' awareness of diversity and inclusion, promoting values of equality, integration and acceptance.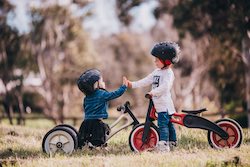 Wishbone Balance Bike
$269.99; WishboneDesign.com
Made from PCR recycled carpet and PCR recycled bottles. It's multi-functional, highly adjustable, repairable and recyclable. A true low-carbon way to introduce cycling and recycling to toddlers simultaneously. Well-loved by families with a child who has coordination or balancing challenges.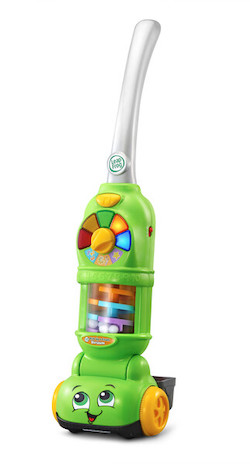 Pick Up & Count Vacuum
$27.99; LeapFrog.com
Encourages the use of gross motor movements to pick up ten dust pieces which is especially useful for kids who are developing their coordination skills. The five light-up panels correspond to the dust pieces to reinforce color recognition and counting through six learning games. These lights, along with the spinning cannister and original music provide a vivid sensory experience that enhances pretend play of cleaning up. "Teaches color, counting, creative play, and watching the balls move is great for visual stimulation," says Lisa.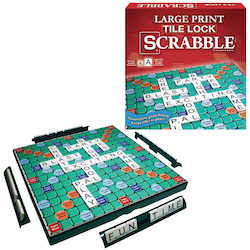 Large Print Tile Lock Scrabble
$44.95; Winning-Moves.com
Specially designed large print version of the world's leading word game. The integrated turntable function makes rotating and moving the board simple, and that large print board, tiles, and rules booklet are clear and easy to read.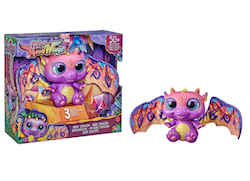 Furreal Moodwings Baby Dragon Interactive Pet Toy
$49.99; Hasbro.com
The dragon reveals her moods to you while you play. Her color-change eyes and tummy reveal many moods. She knows when you move her, so fly her gently through the air, spin her around, or even tip her upside-down and she'll respond in all kinds of fun and silly ways. "My son loved interacting with this dragon. He loves the movement, sound and color changes," says Anne.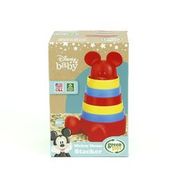 Disney Baby Mickey Mouse Stacker
$14.99; GreenToys.com
The seven brightly colored red, blue and yellow nesting pieces stack easily from large to small, or allow children to stack in any order. Designed with no center post it makes it a perfect stacking toy. Allows practice in important developmental areas, including motor skills, coordination, categorization and sorting, problem solving, spatial reasoning and color identification. "Very sturdy so it is great for stacking and working on fine motor skills," says Tracy.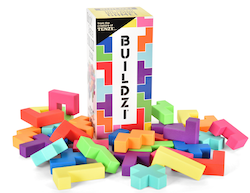 BUILDZI
$24.95; Amazon.com
BUILDZI's colorful card decks and blocks are stimulating to young children and encourage the use of fine motor skills and brain development. Offers players multiple ways to play, challenging even the sharpest of minds. "It is like a tactile Tetris game. Great mind challenging game that unplugs kids from electronics," says Katy.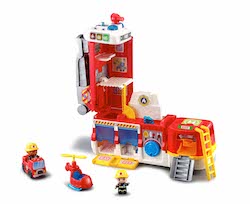 Helping Heroes Fire Station
$39.99; VTechKids.com
Transforms from a firetruck into a fire station playset with figurines and numerous manipulatives for children to explore. There are multiple levels of activities to play with the figurines and interactive buttons to hear fun sound effects and music. Simple "starter" audio phrases give quick prompts for children to build and foster their imaginative narratives. "A great transforming toy with fun sounds," says Emily.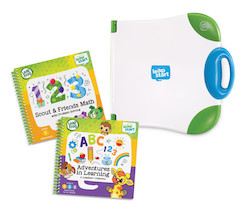 LeapStart Preschool Success
$39.99; LeapFrog.com
Invites learners of all abilities to open up books and build early learning skills in a hands-on manner. The unique interactive stylus experience combines a self-directed activity book learning experience with audio-enhanced interactivity to motivate exploration and learning. Children can use the stylus to touch anywhere in the book to trigger questions and learning challenges at their own pace. "I love that it folds and is easy to take along. Great educational toys for the car or when you are out and about," says Julie.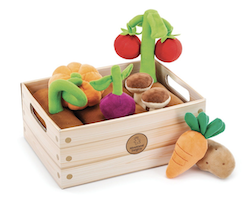 Vegetable Garden
$21.99; EducationalInsights.com
Kids can harvest the colorful crop and pick up on important early-learning skills while they play. Encourages creativity, imagination and social interaction while building vocabulary. "This adorable soft toy is great for sensory and teaching about growing food. The box is part of the toy and I love the detail on the pieces," says Laura.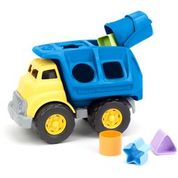 Shape Sorter Truck
$29.99; GreenToys.com
Kids can practice fine motor skills sorting the shapes into their corresponding slots – little ones can simply use the bin to deposit the pieces – then tilt the hopper back to dump the contents out the swinging door and start again. "Pieces are easy to grasp, great for fine motor skills. Teaches shapes and counting," says Emily.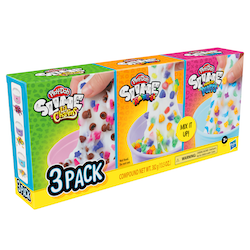 Play-Doh Slime Cereal Themed Bundle
$14.99; Hasbro.com
Mix the plastic cereal-shaped bits into the milky-colored  slime  compound for a satisfying sensory experience. Includes three varieties:  Rainb-os  comes with rainbow-colored bits in shapes like triangles, rings, and hearts,  Li'l Charms  feature brown, purple  and pink  chips, stars, and more and Magic Puffs come in fun colors and shapes like smiles, hearts and stars. "My daughter loved adding the small pieces to the slime. Fun sensory activity," says Tracy.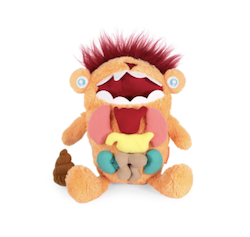 Amazing Inside
$59.98; MinilandGroup.com
Kids will discover the amazing things we humans have inside our bodies. This little monster has five brightly colored soft fabric organs: heart, lungs, kidneys, stomach and intestines. You have to get them out through the mouth and place them in the correct spot on this character's body. "Adorable toy that teaches how the body works. Pieces fit inside for storage," says Emily.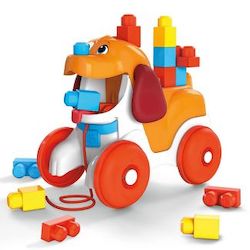 Mega Bloks Pull-Along Puppy
$19.99; Fisher-Price.com
Kids can feed the puppy by placing the blocks in its mouth then pull on the leash and take it for a walk to poop blocks. The blocks can be used to build directly on the puppy's head, back and nose. Perfect fit for small hands and are designed to develop imagination and gross motor skills. "Developmental toy that advances from sitting to standing to walking," says Emma.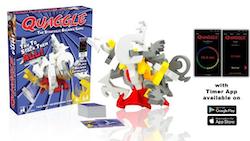 Quaggle
$29.99; Funsparks.com
You want to win the game but at the same time build a big structure to see how crazy it can get. Draw a card and see what you have to place, whether its the "Slice", "Porkchop", "Mr. Woo" and many more including the three "Wildcards". Rack up points for every piece you place and win bonus points. Don't destroy the structure or you lose points. "Encourages problem solving, hand-eye coordination and exceptional fine motor skills," says Jennifer.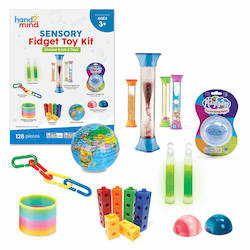 Sensory Fidget Toy Kit
$29.99; Hand2Mind.com
The eight toys in this kit provide cues to help children deal with big emotions, calm their minds and bodies, reduce anxiety and stress, and practice quiet focus. Each hands-on fidget toy offers a unique experience, allows for independent play, and helps children become resilient learners who respond positively to any challenge. "A nice assortment of fidget products to help students with focus, stress and self-soothing," says Emma.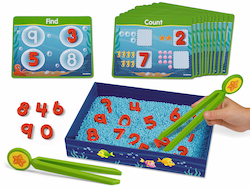 Find the Number Activity Center
$29.99; LakeshoreLearning.com
Children just grab an activity card and identify which numbers they need to find…then use the tweezers to search through the tray and pull out each one—matching up numbers or counting objects to 10 as they go.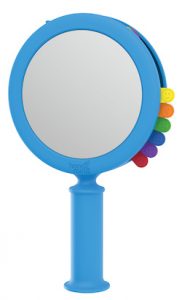 See My Feelings Mirror
$11.99 each; Hand2Mind.com
Help children learn to label and identify their emotions with this mirror. Make learning and understanding feelings fun with four guided starter activities, easy-to-identify emojis, and six different snap-in-place emotion slides. Mirror is made from shatterproof glass to ensure safety. "Perfect for imitation and self-expression and I love the diversity in the six faces," says Laura.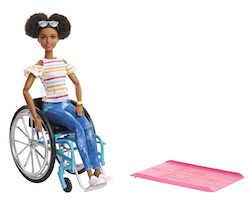 Barbie Fashionista with Wheelchair Assortment and Barbie Fashionista with Prosthetic Leg
$7.99-$19.99; Mattel.com
In collaboration with the UCLA Mattel Children's hospital, the wheelchair is modeled after a real, rigid frame wheelchair. The doll included has an articulated made-to-move body to easily fit in the wheelchair. The wheelchair accessory accommodates all body types offered within the Made-to-Move product line (tall, curvy and original).  A ramp accessory is included for seamless play with Barbie Estate items. Barbie Fashionista with Prosthetic Leg has a limb difference and wears a prosthetic leg – kids can easily take it on and off to add a unique element to storytelling. "Helps with the conversation on how we are all alike and different," says Sally.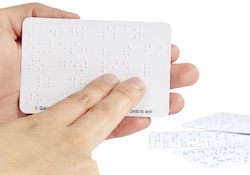 UNO Braille Edition
$9.99; Hasbro.com
Designed in partnership with the National Federation of the Blind (NFB), UNO Braille features braille on the corner of each playing card to indicate the card's color, number or action. It is easy for everybody – both sighted and blind and low vision players – to play together. "Inclusive game for kids with visual impairments. Allows kids with vision impairment to play cards with their peers," says Richard.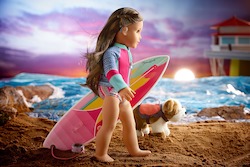 American Girl's 2020 Girl of the Year: Joss Kendrick
$98-$128; AmericanGirl.com
Joss Kendrick is a fierce athlete born with hearing loss and a passion for surfing and competitive cheer. Whether she's on her surfboard or in the gym, Joss shows girls the importance of trying new things, pushing past stereotypes, and being a good team player. She arrives wearing a swimsuit, hoodie, and shorts, plus a removable hearing aid in her right ear.