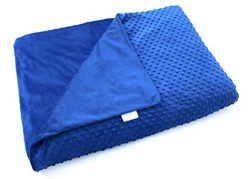 15 lb Weighted Blanket
$139.99; Huggaroo.com
Ultra plush, durable, and luxurious, it is a joy to snuggle with to relax or sleep. Features an incredibly soft, removable, and machine duvet cover, which is secured to the inner weighted quilt with 14 sturdy double ties and loops, preventing any shifting or settling. The steady pressure is proven to lower stress hormones and bring a sense of calm and relaxation for restful sleep. Huggaroo soothes 'growing pains' and can be helpful for children with night terrors, anxiety, ADD/ADHD, autism and sensory processing disorder. Perfect for older children, teenagers, and adults weighing more than 70 lbs.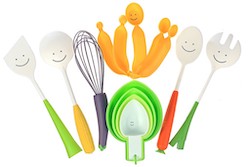 Q.D. Foodie Kitchen Tools
$8.99-$49.99; QDFoodie.com
Promotes inclusion and joy in the kitchen. Q.D. Foodie tools are designed to allow everyone to work together, become more adventurous with food, make healthier choices, gain cooking and social skills and develop more independence. With sensory friendly handles, along with braille and vibrant colors that engage picky and non-picky eaters alike, Q.D. Foodie Kitchen Tools are making food so much fun.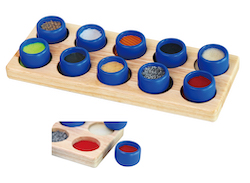 Edushape Remember It! Texture Memory Game
$19.99; EduShape.com
Identifying and remembering textures is an important part of sensory learning. Children touch and name the colors and textures of the disks and then find the matching ones on the board. Learning textures also helps with language skills.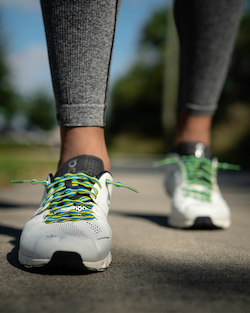 Caterpy Laces
$9.95- $11.95; CaterpyLaces.com
Feature elastic bump technology which allows you to customize tension at every eyelet row to match your foot shape. Just lace the shoes as you normally would, adjust the tension at each eyelet row and the bumps hold the laces in place with no need to tie a knot at the top.  They come in a variety of bright and fun colors and are one size fits all.
KINNEBAR 200
$149.99; Kinnebar.com
KINNEBAR is a portable and adjustable foot swing that fits under a child's workstation. It allows children to move in their seat and improves in seat behavior as well as improve time on task. It is wonderful for all children, especially children with ADHD, Autism, SPD and Asperger's.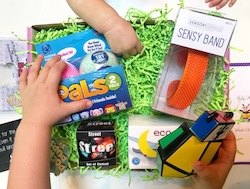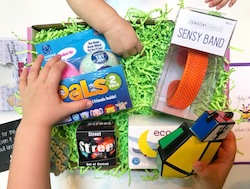 Sensory TheraPLAY Subscription Box
$39.95/month; SensoryTheraPlayBox.com
The Sensory TheraPLAY Box is a subscription box for children with autism/special needs, curated by a licensed pediatric occupational therapist. Receive a monthly surprise assortment of sensory toys and tools to engage your child in fun therapeutic play while fulfilling those sensory needs.
STAYnEAT
$14.99-$19.99; Stayneatplate.com
Designed to promote self-feeding and less cleaning, it benefits toddlers to adults; including picky eaters, individuals with Alzheimer's, Parkinson's, MS, tremors, strokes, limited eyesight, reduced motor skills, and many more.
 Two-in-one design with and without a three section divider. It goes from partitioned to non-partitioned with just a flip. The non-skid rim reduces the plate from sliding. "These are great! My daughter is super strong and throws everything. She couldn't budge these," says Felicia. "We use them at every meal."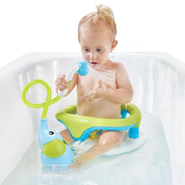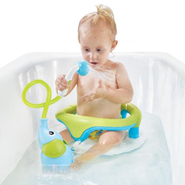 Yookidoo Elephant Baby Shower
$24.99; Amazon.com
Battery-operated, compact, and portable shower designed for ease of use by parents and gentle comfort for children. "Very helpful for kids that need more work on sitting up," says Rebeca. "Helps make bathtime more relaxing."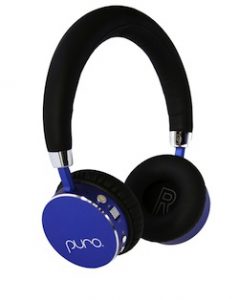 PuroSound BT2200 Volume Limiting Kids Bluetooth Headphones
$109.99; PuroSound.com
When your child puts the headphones on, they will enjoy clear vocals at a low volume of 85 dB* and under even during air travel as engine roar eliminates. Each pair features an adjustable headband and cushioned ear pads plus durable materials to withstand rough play for children. "Great sound!" says Emily.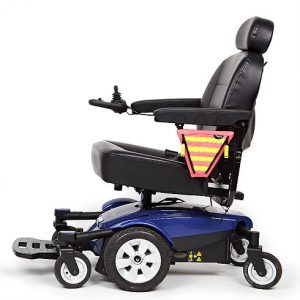 Blue + Yellow StripedPie Motorized Wheelchair Bag by PunkinFutz
$42.50; PattiAndRicky.com
Style your ride! This PunkinPie bag is designed especially for motorized wheelchairs, but will also work on walkers, scooters, strollers, bicycles, carts. PunkinPies carry inhalers, wallets, ID cards, catheters, EpiPens – anything you need to keep close at hand. "It is versatile depending on your attachment needs. It has zippers and can be attached to a wheel," says Naomi. "It helps with carrying things when you do not have available hands pushing the wheelchair."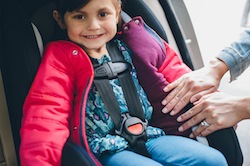 Buckle Me Baby Coats
$79.99; BuckleMeCoats.com
Experts recommend taking coats off in car seats but experts aren't around for epic parking lot meltdowns. Check out the ultimate, crash tested, coat designed for the car seat with a thinner back and split shoulder seams you can set the harness safely, quickly, and easily every time. "I love the ease of getting the jacket on and off," says Naomi. "The extra buttons and side zippers are great. They are extremely helpful for children who cannot help you dress them."
Plush Cheetah Lap Pad and Neck Wrap
$29.99; Huggaroo.com
Weighted to help a child's central nervous system to relax, lower anxiety and reduce stress. Beneficial for children who have difficulty sitting still for periods of time or who have anxiety when traveling. It can also be warmed in the microwave for soft, snuggly comfort to soothe aches and pains to the neck, stomach, hands and feet emitting delightful aromatherapy of 100% natural herbs: eucalyptus, cinnamon and clove. Chill it in the freezer and use as a cold pack for bumps and bruises. "I love the smell and texture," says Meghann. "Fun and good for sensory."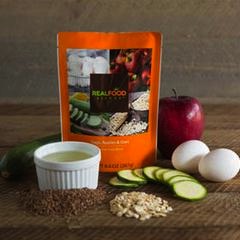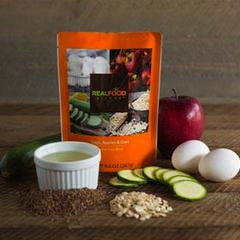 Real Food Blends
$49.95 for 12 pack; RealFoodBlends.com
The meals from Real Food Blends can be used to supplement a feeding tube formula-only diet and offer some nutritional variety and the benefits of 100% real food. Made without nuts, dairy, soy, corn syrup, synthetic additives, fillers or preservatives, it offers five meal varieties for kids and adults. No refrigeration is necessary, and the blends are covered by many insurance policies, with no prescription needed.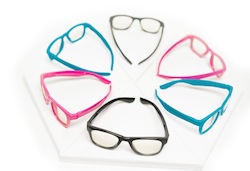 Screen Shades
$19.95 for kids, $29.95 for adults; RealKidsShades.com
They help protect eyes from damage caused by harmful bluelight emitted from tablets, computers, gaming consoles, smartphones and more (in addition to providing 100% UVA and UVB protection). Designed to block blue light and help reduce eye strain, Screen Shades feature shatterproof polycarbonate lenses, are lightweight and provide excellent impact resistance and optical clarity. Sizes are toddler (2+), kid (4+), youth (7+) and adult.